NOTE: Finally good news from Al Jazeera. Many thousands secular Turks are demonstrating against PM Erdogan. They're fed up with his dictatorial rule and Islamist agenda.
It's not only Istanbul but also the secular west and south-west coast of Turkey where the Kemalists are concentrated.
-
by Administrator of
Apostates and Infidels
Anti Erdogan demo in Antalya. One hour ago (June 2, 2013 - Sunday) -
Nick
van Riel
Published on

May 31, 2013
Turkish authorities have arrested dozens of people protesting in the fiercest anti-government demonstrations the country has witnessed in years, with riot police firing tear gas on demonstrators in Istanbul and Ankara.
At least 60 people were detained on Friday as they protested in Istanbul at a rally which began over the demolition of a park, but which turned into a broader protest against what they see as an increasingly authoritarian government.
Raw Video: Footage From Turkey Riots - Turkish Revolution!
This is not just about the trees the government tries to cut. People,we, are revolting against all the civil wrongs that we have been exposed. Our awakening was just born from a few trees.
This movement is spreading whole country gradually, but police has increased cruel icer treatment. TTNET has corrupted the connections to the Social media and we are not able to get news from our dozens of friends in squares. As you all know, Turkish media was not broadcasting what is happening, but since this afternoon, they are broadcasting doctored news. Protesters are shown as the aggressors. .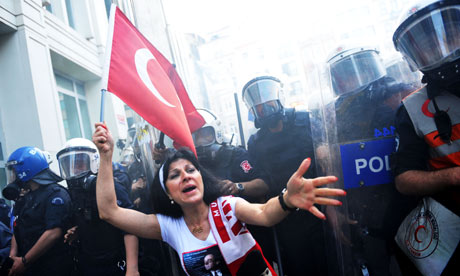 Thousands clash with police in Istanbul amid anti-govt protests
Protesters chant slogans against the government: There is anger against the perceived increasing authoritarianism of the Islamist-leaning government of prime minister Recep Tayyip Erdogan
Anti-government protesters shout slogans as they clash with riot police in central Ankara: Solidarity protests erupted in the Turkish capital and the Aegean coastal city of Izmir as news spread of police brutality
Follow us: @MailOnline on Twitter | DailyMail on Facebook