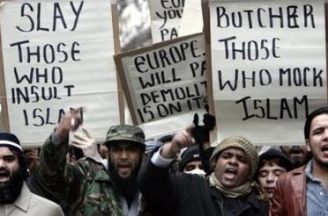 This should come as no surprise. 32% of Muslim students in the UK believe violence in the name of Islam is acceptable.

It doesn't take a crystal ball to see America's future. Muslims bring Jihad. And then Jihad brings death, destruction, and misery.
(
Guardian
) -
Guns and ammunition discovery in car on M1 in South Yorkshire stokes police fears that terror attack was imminent. Counter-terrorism officials believe a suspected terrorist plot to attack a target in the UK has been foiled after a chance stop of a car containing guns and ammunition.
Seven people have been arrested after two firearms were found in the vehicle which was stopped in South Yorkshire on Saturday on the M1 because it had no insurance.

Investigations by counter-terrorism detectives and MI5, sources say, have led officials to believe that it was likely an attack against at least one specific target was being planned.

While they could not be sure when it might have occurred, the possibility of it being imminent was sufficiently high for the security service and police to decide arrests had to be made, rather than allowing the plot to develop to secure better evidence for any court case.

The firearms recovered fired single rather than multiple rounds, and they were not automatic weapons capable of rapid fire. The car was seized and impounded after an automatic number plate recognition system flagged it for having no insurance.

A search found the weapons and ammunition hidden inside. Other material found in the car led police to link the weapons find to terrorism, they said.

Police traced the driver and passenger of the car, making arrests on Tuesday, Wednesday and Thursday. Six men from Birmingham and one from Kirklees, West Yorkshire, have been arrested.

Police said the investigation was linked to "international terrorism", meaning that they believe any planned attack was inspired by the al-Qaida ideology of violence.

The news of the arrests came a day after police in London arrested six people over a separate suspected plot, and in a sign of increased nervousness before the Olympics, after a bogus terrorism scare on a coach on a Midlands motorway sparked from vapour from a cigarette replacement aide. continue reading
Related

Scooped by Jarrad Winter