An Afghan soldier shot dead two American soldiers as violent anti-US protests over the burning of copies of the Koran swept the country for a third day.
The attacks came after the Taliban urged Afghans to kill foreign troops to avenge the burning of Korans at the US-run Bagram airbase north of Kabul.
Since then at least 11 people have died in demonstrations across the country and 17 have been wounded.
Thousands of protesters have taken to the streets of several cities, chanting "Death to America!" and smashing cars, buildings and shops.
US president Barack Obama has sent a letter of apology to president Hamid Karzai, the White House said. ... see more at ABC NEWS
DEMONSTRATIONS IN AFGHANISTAN
Afghan men shout slogans during a demonstration against Qur'an desecration in Herat, Afghanistan, February 23, 2012. The protests over the Quran burning by U.S. military have entered its third day on Thursday. During Wednesday's demonstrations, seven people were killed and 30 others sustained injuries. ...
Photograph by:
Ahmad Massoud , Xinhua/Zuma Press/MCT
Two American troops were gunned down by a man wearing an Afghan uniform in eastern Afghanistan Thursday, a U.S. official said Thursday.
TRIBUTE TO ALL U.S. SOLDIERS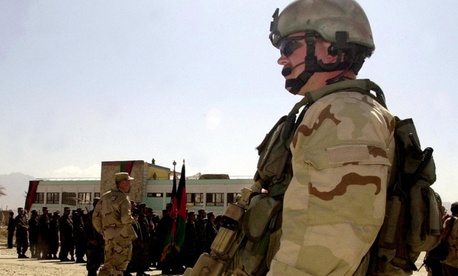 We support you and never take your sacrifice for granted.
God bless you - each and every one of you!