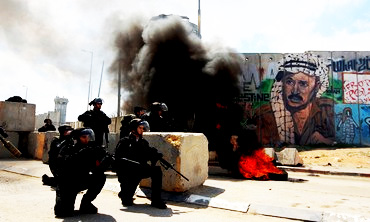 Palestinian youths hurled stones and Molotov cocktails at Israeli security forces, who responded by firing tear gas, stun grenades, sound weapons and foul-smelling water to disperse the protesters.
Challah Hu Akbar
Updates will be at the bottom of this post.
The IDF and Israel Police went on high alert Friday, imposing a full closure on the West Bank, limiting access to the Temple Mount and setting up checkpoints on roads near the Lebanese border ahead of expected protests marking Land Day and the Global March to Jerusalem.




Protests were taking place across the West Bank in Kalandiya, Bethlehem, Hebron, Nabi Saleh, Budrus and other villages. Israeli media reported that IDF troops fired warning shots toward protesters in the Gaza Strip who approached the closed Erez Crossing.




At the Kalandiya checkpoint Palestinian protesters were clashing with Israeli forces, throwing rocks, firebombs and burning tires. Security forces were using large amounts of tear gas, stun grenades, sound weapons and foul-smelling water to disperse the protesters.
The IDF reports that at least one border policeman has been injured in Kalandiya.
Here is video of the rioters hurling firebombs at Israeli forces in Bethlehem.
The
Jerusalem Post
reports that "Earlier, PA security forces had blocked the protesters from approaching the checkpoint. The protesters stopped in front of the Palestinian police and sat in the road, chanting: "To Jerusalem, we will march."
Below is a photo taken by
George Hale
showing PA forces holding back protesters.
The Times of Israel reports that "Israel's Public Security Minister Yitzhak Aharonovitch acknowledged fears of violence related to the Friday Land Day anniversary, but said he believed the day would ultimately 'pass off quietly.'"
Pro-Palestinian activists were also planning to commemorate the event this year by marching to Israel's borders, in what they have termed a "Global March to Jerusalem."




In Lebanon, army troops imposed tight security measures in the south of the country, setting up checkpoints across the area, while the United Nations Interim Forces in Southern Lebanon (UNIFIL) enhanced their patrols.




The Lebanese organizers of the Global March have announced that the march would not go to the border with Israel, as planned, but would instead head to Beaufort Castle, east of Nabatieh, south Lebanon.




"More than 5,000 are expected to attend the non-violent march which is aimed at supporting our Palestinian people," Ali Barakeh, a member of Hamas movement in Lebanon told DPA.




Hezbollah and the mainstream Fatah movement have set up more than 60 buses to transfer Palestinian refugees from 12 camps across Lebanon to the area where the ceremony is being held.
Follow Adam Levick for live updates from Metula, which is right near the border with Lebanon.
Update: Here is a photo from behind the PA forces in Bethlehem. Once again, taken by
George Hale
.
The Jerusalem Post's Melanie Lidman says that "Protest seems mostly over now just sporadic rocks thrown at security forces, frequent stun grenades from soldiers." It appears to me that Lidman is based at Kalandiya.
Some 14 Arabs were arrested over suspicions they hurled rocks at police forces near the Damascus Gate in Jerusalem's old city.
CHALLAH @ Ynet
Jordanian media are reporting that 20,000 people are taking part in march on Jerusalem which is heading towards the Israeli border and set to gather at Jesus's baptism site near the border.

Participants were shouting: "Where is the Arab League on Jerusalem?" They were waving Jordanian and Palestinian flags and carried signs with anti-Israeli slogans. Four rabbis of the extremist anti-Zionist Neturei Karta sect are also taking part in the march.
Update: The Al-Jazeera reporter covering events near the Lebanese border has
reportedly
"signed off."
Update: Army Radio
reports
that organizers of today's protests have expressed "disappointment" over the low participation.
Update:
CHALLAH @ Ynet
The IDF Spokesperson's Unit addressed reports that Palestinian Parliament Member Mustafa Barghouti has been injured, saying that the politician was hurt in a brawl that broke out among the Palestinians over who would lead a Land Day protest march.

The IDF added that another Palestinian sustained injuries evidently caused by a gas grenade. He was taken to a hospital in Hebron.
Like
Challah Hu Akbar
on Facebook! Follow
Challah Hu Akbar
on Twitter!