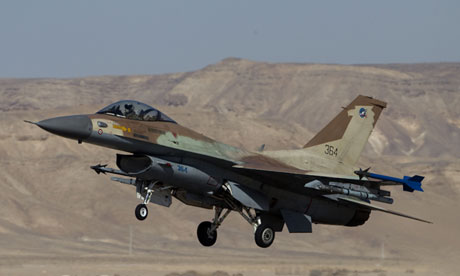 After IDF collects remnants of unmanned aircraft shot down over southern forest, security establishment examining possibility it was launched by Hezbollah to photograph Israeli reactor; army fears drones will be used to hit strategic sites
Ron Ben-Yishai
Published: 10.07.12, 00:37 /
Israel News
After Israeli fighter jets
shot down
a drone over the Yatir forest in the south Mount Hebron area on Saturday, the army is trying to figure out what its destination was. One of the possibilities the security establishment is looking into is that the unmanned aircraft, which was apparently Iranian-made, was on its way to test the option of infiltrating the nuclear reactor in
Dimona
, perhaps even to examine the option of targeting the plant in a future conflict.
A drone such as the one that was downed on Saturday after penetrating Israel's airspace through the Mediterranean Sea could not cause serious damage to the reactor, but such an incident would mark a psychological victory for Lebanese Shiite group
Hezbollah
, whose leader Hassan Nasrallah recently threatened to attack strategic targets in
Israel
, including power plants.
The Iranians are aware that Israel has the capability to deal with rockets and missiles with its
Iron Dome
and
Arrow
air defense systems, but dealing with the threat of a slow drone poses a different kind of challenge.
Operating a drone by remote control from such a long distance requires advanced capabilities, which Israel was not aware Hezbollah had acquired. By examining the drone's parts, the army hopes to find out whether the drone was controlled from a command center in Lebanon or was directed by a space-based satellite navigation system (GPS) according to predetermined coordinates. If that was the case, the unmanned aerial vehicle (UAV) may have directed itself automatically and was supposed to return to its base or self-destruct over the sea.
As far as Israel is concerned, Saturday's incident calls for increased alertness and preparations to thwart such infiltration attempts in the future. In light of the successful interception and the volatile situation in the Middle East, Israel may decide to act with restraint and not respond at all. It will certainly want to avoid a massive response that may ignite the entire region.
"Israel is aware of
Iran
and Hezbollah's technological capabilities. The current discussion is about how Israel should respond to such an infiltration of a drone and if it should be compared to the launching of a missile or rocket from Lebanon, which has always drawn an immediate response in the form of artillery fire or aerial strikes on targets in south Lebanon," a senior security official told Ynet Saturday night.
IDF forces search for drone remnants (Photo: Haim Horenstein)
The drone apparently began its flight in Lebanon and then headed in the direction of Gaza's coastline after flying over the Mediterranean Sea. The drone's operators may have planned to take advantage of this fact in hopes of confusing Israel's detection and interception systems. However, the drone was detected while it was still flying over the Mediterranean Sea and was downed a half-hour later over the south Mount Hebron area after IAF jets made certain it was not carrying any explosives and that its main mission was intelligence gathering.
The IDF is working to improve its aerial detection and interception capabilities in light of the changes in the Middle East and due to the fact that Israel's enemies have upgraded their military capabilities. The army is placing an emphasis on detecting drones, fearing that they may be used as a missile to target Israeli strategic sites.
"In the next war Syrian and Iranian drones will also be sent on 'suicide' missions," a senior Air Force official recently told Ynet.
Iran and Hezbollah have yet to respond officially to the downing of the drone, but in an interview with English-language Iranian network Press TV, retired Lebanese general Hisham Jaber estimated that the drone was American.
"The Negev desert is a very sensitive area," he added. "Everybody knows that the Dimona nuclear center is there and the Negev is also the nuclear reserve for the Israeli armed forces.
"No one knows where the drone came from yet, but the Palestinians do not possess such sophisticated aircraft. Maybe it came from Sinai and Egypt, but I prefer the idea that since it came from the sea it may have come from an American aircraft carrier and was shot by accident," the general said.
The retired general said the drone may have departed from one of the American bases in Saudi Arabia and rejected the possibility that it was launched from Lebanon or Jordan.
"If Israel will remain silent after its investigation and will close the file, that means that - like we said - it (drone) came from a friendly side and it is not in their interest to talk about it," he argued.
Yoav Zitun contributed to the report