The genius in the White House is arming these Muslim terrorists who envision marching on our Capitol.
Flashpoint Intelligence A photo-illustration from the Facebook page of the al-Aqsa Islamic Brigades, a faction of the opposition Free Syrian Army fighting to topple Syrian President Bashar Assad, shows Islamic fighters marching away from a burning U.S. Capitol.

A photo-illustration from the

Facebook

page of the al-Aqsa Islamic Brigades, a faction of the opposition Free Syrian Army fighting to topple Syrian

President Bashar Assad

, shows Islamic fighters marching away from a burning U.S. Capitol.
Not one of 'bad guys,' but Syrian rebel group proclaims 'anti-American' bent By Robert Windrem, Investigative Reporter,

NBC NEWS

September 6, 2013
As debate grows over the extremism of some armed factions battling to overthrow Syrian President Bashar Assad's regime, an incendiary illustration on the Facebook page of one such group leaves little doubt where its leaders envision the uprising ending – with masked Islamic fighters marching through
Washington
, D.C., as the U.S. Capitol burns in the background.
The image is one of eight photos posted on the official Facebook page of the "

Al-Aqsa Islamic Brigades,"

a small armed Sunni rebel faction fighting with the Free Syrian Army, the main umbrella military organization of the opposition forces. Two other photos posted on the group's page feature the widely recognized black flag of the

al Qaeda

in

Iraq

terrorist group, which operates freely in

Syria

.

Evan Kohlmann, a senior partner with the security firm Flashpoint Intelligence and an NBC consultant on

terrorism

, who discovered the image on Facebook and provided it to NBC News' investigative unit, said Al-Aqsa has not been designated as a terrorist group by the

United States

. But he noted that it fights alongside another Free Syrian Army force, the Tawhid Brigade, that has been linked to Jabhat

al-Nusra

, one of two rebel factions labeled terrorist groups by the U.S.

government

.
Don't forget to follow the D.C. Clothesline on Facebook and Twitter.
Recommended Posts
When did arming and abetting the enemy become an "honorable" thing for the U.S. to do; when were our Constitutional laws torn up and treason become "acceptable"; when did the Oath of Office of the President become meaningless?
Obama plans to give his speech (plea) to the nation on Tuesday, September 10th - the Eve before America's Remembrance Day for all who died on 9/11. Is there something ironic about his intentions of asking America to support an attack on Syria as we mourn and remember the deaths of almost 3,000 of innocent civilians by the cowardly, devious Islamist organization known as "al Qaeda"? al Qaeda - the group Obama is arming, training, and supporting to help him attack Assad? What could possibly go wrong?
The picture displayed at the top of this page is on Facebook by the "rebels" Obama supports.
They clearly demonstrate their "future" intentions, which is to attack our very Capital building after they demolish/overthrow Assad's government/army. They have the patience and will to proceed with their threats.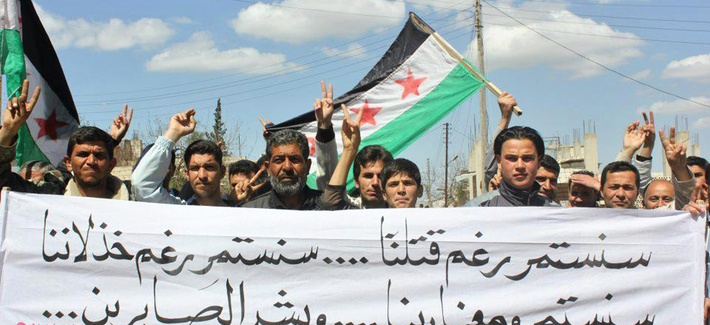 Kerry was quoted as saying "only" 25% of the "rebels" are members of al-Qaeda. "Only"? He forgets to identify the rest of the terrorists organizations fighting in Syria, but estimates are well over 25%. Who are they? Here's a
"Defense Guidebook: Who's Who in Syria's Opposition".
And, just in case you doubt that the Obama administration supports al Qaeda, here's an article with Hillary Clinton's own words: "Syria: Clinton Admits US on Same Side as al Qaeda to Destabilise Assad Government". (This is the woman who plans to run for "President" in 2016!)
"U

S Secretary of State Hillary Clinton has acknowledged that Al Qaeda and other organizations on the US "terror list" are supporting the Syrian opposition.

Clinton said: "We have a very dangerous set of actors in the region, al-Qaida [sic], Hamas, and those who are on our terrorist list, to be sure, supporting – claiming to support the opposition [in Syria]." [1] (Click here to watch video)
Yet at the same time, in the above BBC interview the US Secretary of State repeats the threadbare Western claim that the situation in Syria is one of a defenceless population coming under "relentless attack" from Syrian government forces.
There is ample evidence that teams of snipers who have been killing civilians over the past year in Syria belong to the terrorist formations to which Clinton is referring to." read
What doesn't Washington understand about the anti-American "rebels" message, with Washington, D.C.'s capital building burning? It means they plan on attacking America again - 12 years after 9/11.
"Hey,

Obama! Your 'moderate' Muslim friends, the Free Syrian Army

(FSA) rebels, posted this picture on their Facebook page to show how they intend to

thank you

for all your support."

-

Jack WV
Here are the phone numbers to call - now is your only opportunity to let your voice be heard: