Bee's note:
What the world is witnessing in Kenya could soon be happening within an American mall. Under the Obama administration, thousands of Somali "refugees" have been allowed within our borders - were they "vetted"? One Somali terrorist captured in VA told the FBI that "200 Somali terrorist" entered the United States through our "soft" borders of Mexico (Fox News report/9-22-2013).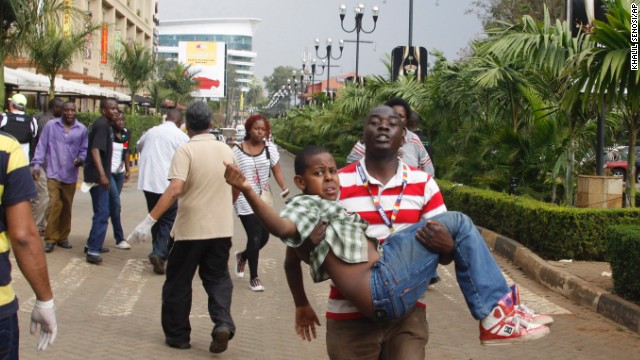 It is past time Washington recognized that America does not have an immigration problem; the problem is Washington's refusal to implement US Immigration laws already on the books.
Secondly, it's time Washington acknowledged that the ideology of Islam is a serious problem and one that needs to be addressed if we plan to keep our nation safe from the on-going suicide bombings/killings/shootings taking place within our borders with Muslim connections, such as, the Boston bombing, and the most recent attack at the Washington Naval Shipyard. Yes, the Naval Shipyard reports "one shooter"; however, the media covers the trail of this shooter having sympathy for the ideology of Islam. (reported earlier on this blog).
Don't you think it's time the White House stopped bragging about "al Qaeda is on the run" and came to terms with the fact that the problem is much larger than one particular Islamic terrorist organization: the problem is Islam's ideology, where they are taught from childhood to hate all non-Muslims (infidels)?!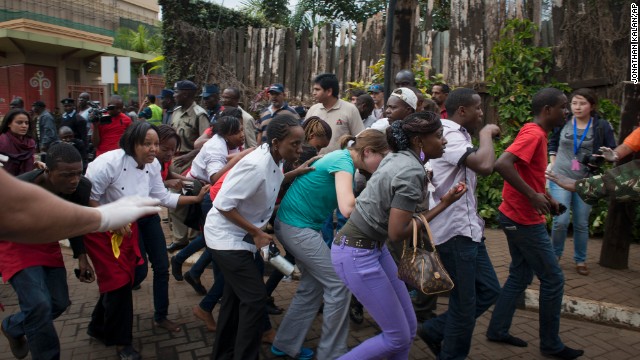 Islam was tagged a "Religion of Peace" by Bush, shortly after 9/11/2001. I believe he did this to prove that the 9/11 attacks were not a religious war on America, and that our planned response in Afghanistan was not some type of Christian Crusade in retaliation to those attacks.
However, Islam's ideology includes a "religion" and Islam is at war with the world, its entire civilization and the society's they infiltrate in every country they wash ashore upon, as "refugees", or illegal immigrants sneaking across our borders.
Either Washington fixes this problem soon, or the next mall shooting will be one of our own malls here in America.
The United States needs a moratorium on immigration for at least two years; close the floodgates of our borders to all Islamic countries and fix the darn problem of "immigration" and refugee status. The best example for stopping the flow of Muslims entering the United States is the following headline:
Kenya: 'If You Were Muslim They Let You Go' - SKY NEWS.
This world has become a "play ground" for Muslims. They don't "play" nicely! There isn't a rock to hide under, island to run to, where Islam hasn't tried or is in the process of trying to destroy everyone and everything in their path. The ideology of Islam is like reading 8.5 on the richter scales - an earthquake of complete destruction wherever their footprints cross paths with modern day society.
Lastly, but more importantly, thank you Israel, for your willingness to advise the Kenyan police in aiding the release of hostages. Israel understands the dangers of Islamic/Arab Muslim terrorists more than any nation on earth - they experience this hatred daily, as they are surrounded by the Muslim wars from its neighbors and within their borders.
Islamic Jihadists massacre at least 30, including Americans, in Kenyan shopping mall after releasing anyone who could prove they were Islamic by reciting a prayer or who could give the name of Prophet Muhammad's mother
Terrified shoppers huddled in back hallways and prayed the militant Islamic gunmen lobbing grenades and firing AK-47 assault rifles inside Nairobi's top mall Saturday would not find them. When the coast was thought to be clear, crying mothers clutching small children and blood-splattered men sprinted out of the four-story mall.
The al-Qaida-linked gunmen asked the victims they had cornered if they were MUSLIM: If the answer was "yes," several witnesses said, those people were free to go. The non-Muslims were not.
Full report with more pictures:
http://www.dailymail.co.uk/news/article-2427892/Nairobi-mall-Gunmen-massacred-22-Kenyan-shopping-centre-targeted-non-Islamics.html
There are now believed to be Americans among the dead, wounded and/or hostages. More info and photos at
The Blaze
Kenya Shooting update: 59 dead, some killed after failing to recite Muslim prayer
From: Sky News
Published On: September 22, 2013, 00:13 GMT
At least 59 people have been killed and 150 wounded in a terrorist attack in a shopping mall in the Kenyan capital Nairobi.
Several children were among those massacred by al Qaeda-linked terrorists armed with guns and grenades.
Some of those killed were executed after
failing to recite a Muslim prayer at gunpoint.
Foreign Secretary William Hague said British nationals were undoubtedly caught up in the "callous and cowardly and brutal" attack at the upmarket mall.
It is understood there may be dozens of hostages, possibly including Britons, still trapped in the mall.
Gunmen wearing bullet-proof vests opened fire and detonated grenades inside the Westgate centre, popular with expatriates and wealthy Kenyans.
Some people were shot at the entrance to the mall as they tried to escape, picked off from rooftops.
One image showed a dead child cuddled up to his dead mother inside a car. Other pictures showed a bloodied woman being wheeled out of the mall in a shopping trolley.
Mothers caught up in the attack were pictured running to safety clutching small children.
Police chief Benson Kibue described the incident as a terrorist attack and said that up to 10 men exchanged gunfire with police.
The Somalia-based al Qaeda-linked al Shabaab terror group has claimed responsibility for the attack and warned of more attacks.
Police sources said one gunman had died from bullet wounds.
Al Shabaab

militants have reportedly said there will be "no negotiaions" over the siege, which continues.
It is understood two French citizens have been killed in the attack and Americans are also thought to be involved.
Saadia Ahmed, a radio presenter from Nairobi caught up in the attack, told Sky News how the attack began.
"We heard three explosions outside the building then all of a sudden we heard gunshots and people ducked down," she said.
"A lot of people were shot while they were trying to escape. I saw one of the gunmen with an AK-47 and later two of them were talking and it sounded like Somali or Arabic."
Ms Ahmed said the attackers released people who were able to prove they were Muslim.
"I witnessed a few people get up and say something in Arabic and the gunmen let them go. A colleague of mine said he was Muslim and recited something in Arabic and they let him go as well.
"I saw a lot of children and elderly people being shot dead. I don't understand why you would shoot a five-year-old child. They were firing at random at anyone who tried to escape."
Earlier, Abbas Guled, a spokesman for the Kenyan Red Cross, said: "The casualties are many and that's only what we have on the outside. Inside there are even more casualties and shooting is still going on."
According to Nairobi-based journalist Abdi Osman Adan, witnesses reported seeing the attackers "firing at any police officers who tried to approach the building".
Security forces are still trying to rescue those trapped inside the centre hours after the start of the siege, going from shop to shop to evacuate shoppers and staff.
Satpal Singh, who was in a cafe when the attackers struck, said he ran downstairs before he was shot near the exit.
"A Somali guy shot at me," he said. "He was carrying a rifle, an AK-47."
A witness, who gave only his first name, Jay, said: "They were not speaking Swahili. They spoke something that seemed like Arabic or Somali."
In a message posted on Twitter , Kenya Police urged the public "to remain calm" and not to speculate about the attack. "We urge you to stay away (from the centre)," they added. Westgate is situated in western Nairobi.
According to the centre's website, it is the city's "premier shopping mall" and offers a "serene and safe environment away from the city centre hubbub".
A Downing Street spokesman said: "The Prime Minister spoke to the President of Kenya, Uhuru Kenyatta, late this afternoon about the attack at Westgate shopping centre in Nairobi."