Yet Another Obama Funded "Green Energy" Company Files Bankruptcy, $2.1 Billion Burned
$2.1 Billion of taxpayer dollars was literally burned with this deal.
This is about my fifth or sixth "yet another Obama funded "green energy" company files for bankruptcy" post in the past five months.
A California solar energy company that was unable to meet a deadline for an Energy Department loan guarantee last year has sought bankruptcy protection in Delaware.

Solar Trust of America's Chapter 11 filing on Monday listed assets between $1 million and $10 million, and liabilities between $10 million and $50 million.

The filing comes amid the ongoing controversy surrounding Solyndra, a solar firm that received a half-billion dollar federal loan and was touted by the Obama administration before declaring bankruptcy last year.

Interior Secretary Ken Salazar and California Gov. Jerry Brown were on hand last June when Solar Trust broke ground on a 1,000-megawatt project in California. The project was touted as the world's largest solar power plant and a keystone of the Obama administration's efforts to promote solar energy.
Yeah, there really is no difference between this story and the last and the last and the last and the last and so on…
Also if you don't believe me about writing five or six "yet another Obama funded "green energy" company files for bankruptcy" posts, check here,here, here, here, here, and here.
Bee's Note:
Speaking of "green energy", read
The Washington Free Beacon's
report on
"Loose Bulbs" -
DEPARTMENT OF ENERGY ALLOWED LIGHT BULB MANUFACTURER TO SKIRT THE RULES IN L PRIZE COMPETITION, DOCUMENTS SUGGEST".
"Secretary of Energy Steven Chu said the competition helped move LED technology forward by providing companies with incentives to make energy efficient bulbs.
"The idea of that light bulb contest was to provide for a goal going further down to get a light bulb that eventually, Americans can afford," he told Congress in March.
The former LSG executive is not convinced.
"Letting (the bulb) come out that expensive, I think it set the market back … people are looking for a return on investment and this just tells them they can't afford any LED bulbs," he said. "I can't blame the U.S. citizens for saying, 'my God, the government is wasting our money.'"
In March, DOE opened the second round of the L Prize competition, which will aim to replace the existing halogen floodlight." ... read more
Check this out:
According to Energystar.gov, compact fluorescent light bulbs (CFLs):




Use about 75% less energy than standard incandescent bulbs and last up to 10 times longer.

Save $30 or more in electricity costs over each bulb's lifetime.

Produce about 75% less heat, so they're safer to operate and can cut energy costs associated with home cooling.

To operate more efficiently, CFLs contain a very small amount of Mercury. For proper disposal and recycling, consider:
The other day my son visited the local hardware store to purchase light bulbs. The price for a box of 3 standard bulbs was under $3.00; the price for a box of 2 compact fluorescent light bulbs was $12.99, or box of 3 for $16,99. The store owner informed my son "that "they" are doing away with the 100 watt standard bulbs and the store won't be receiving any more after this stock runs out".
Hmm! Tough decision! Three dollars vs. $16.99.
Living on a fixed income, conserving energy is a priority in my home and the monthly electric bill is a testimony that I know how to "conserve" without the government's help. So, when my son called on his cell phone and asked what I wanted for bulbs, I told him to purchase every darn standard bulb in the store! And just for your information, I have tried one of the CFL bulbs - they do NOT last longer than a standard bulb and the light is not as bright as the standard. I know, because as a senior citizen, I do need good lightening to read, knit, etc. I've decided that my only option once the stores run out of standard bulbs is to begin using candles.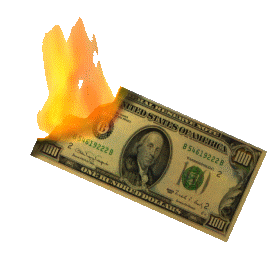 However, may I make a suggestion to our government? It's a bright idea: Focus your attention on more important matters, like keeping America safe and checking into what that idiot in the White House is doing to destroy this nation, and leave the upkeep of my home to me, the homeowner. The only folks who have money to burn is our government and they are burning up my taxpaying money!